10# Tom Yum Spice Soup

Ingredients:

1 pound medium-size shrimp (prawns)
10 mushrooms
1 stalk of lemon grass, lightly pounded and cut into 2 inches long
3 lime leaves
1 teaspoon of salt
2 tablespoons of nam pla (Fish Sauce, or "Nam Pla" in Thai)
3 tablespoons of lime juice
6 prik ki nu ( Thai chili) ,pounded lightly
4 cups of water
½ cup of roughly cut cilantro leaves (Coriander)

Process:

Remove the shrimp shell but leave the tails (for look).
Then cut open the back of each shrimp to remove the veins.
Clean the mushrooms with water and dry them well before wedging each into quarters.
Bring water to boil, then add lemon grass, lime leaves, and shrimps.
When the shrimps turn pink, add mushrooms and salts.
Remove the pot from heat after boil. Add fish sauce, lime juice, and hot peppers to taste.
9# America's Shrimp Creole

Ingredients:

1 teaspoon paprika
1 teaspoon pepper
1/2 teaspoon salt
1/2 teaspoon garlic powder
1/4 teaspoon oregano
1/4 teaspoon onion powder
1 pinch cayenne pepper
1 pinch thyme
28 uncooked large shrimp
7 tablespoons chilled butter, cut into 1/2 inch pieces
3 tablespoons Worcestershire sauce
3 tablespoons fresh lemon juice
2 teaspoons chopped garlic

Process:

Combine first 8 ingredients in a large bowl.
Add shrimp and toss to coat.
Melt 3 T.of the butter in a large skillet over medium heat.
Add Worcestershire, lemon juice and garlic and saute about 2 minutes.
Add shrimp and saute until opaque.
Add remaining butter slowly until melted.
Transfer shrimp to serving plate and pour sauce over
8# Peru's PAPA A LA HUANCAINA

Ingredients:

8 yellow or while potatoes
Huancaína sauce (spicy Cheese Sauce)
Lettuce leaves
2 hard-boiled eggs
8 large black olives, halved

Process:

Heat a large pot of salted water to boiling and add the potatoes.
Boil potatoes until tender when pierced with a fork.
Drain water from potatoes and let cool.
Slice potatoes and arrange on top of the lettuce leaves.
Pour huancaína sauce over potatoes, and garnish with slices of hard-boiled egg and black olive halves.
7# Radish with pepper sichuan, China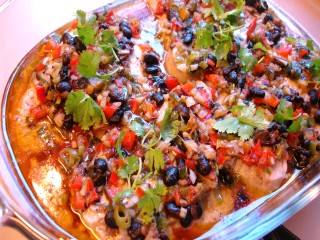 6# Bibimbap with kimchi, Korea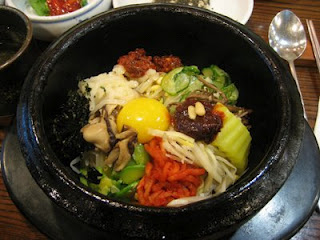 5# Suicide chicken wings, America

Ingredients

2 1/2 cups Frank's red hot sauce
2 tablespoons garlic powder
2 chicken bouillon cubes (or powder)
1 teaspoon pepper
1/2 teaspoon white pepper
2 tablespoons Tabasco sauce
5 ounces barbecue sauce (any brand you like)
5 ounces honey garlic barbecue sauce
2 tablespoons cayenne pepper
1 teaspoon chili powder
1/4 cup butter
4 tablespoons brown sugar
5 lbs chicken wings (tips removed & split in half.)

Process:

Mix all sauce ingrediens in saucepan and heat to melt butter.
Deep fry wings in small batches and mix with sauce.
4# Chicken Jerk, Caribbean

Ingredients

1 1/2 lbs. of chicken pieces
5 chopped green onions
1 chopped onion
2tbsp. of brown sugar
1/2 tsp. of ground cloves
1/2 tsp. of ground allspice
1/2 tsp. of ground nutmeg
1 tbsp. of chopped chandon beni/cilantro
1 tbsp. of chopped thyme
1/4 cup of cooking oil
1/2 cup of distilled white vinegar
1/2 cup of soy sauce
1 minced jalapeno pepper

Process

Blend a combination of all onions, jalapeno, soy sauce, vinegar, oil, allspice, thyme, nutmeg, cloves, chadon beni/cilantro and brown sugar for 15 – 30 seconds.
Coat chicken pieces thoroughly in mixture and seal tightly in bowl overnight to soak.
Preheat grill to high heat or oven to 350 degrees F.
Lightly oil grill and cook chicken 5-10 minutes each until liquid is absorbed/Place in grease glass dish and place in oven for 15-20 minutes and turn chicken.

Monitor chicken when baking in oven to ensure chicken does not get too dry. Adjust baking time is necessary.
3# WOT, Ethiopia

Ingredients

1 whole chicken, skinned and cut into serving peices ( or 6 legs and 6 thighs)
8 pounds of onions, chopped FINE
1 pound of mashed garlic
1/4 pound mashed ginger
2 ladles full of Ethiopian chili powder (bere bere)
1 to 1 and a half lbs butter (M. says Ethiopians like to see it swimming on top)
Salt and pepper to taste
Nutmeg or cumin optional.
1 hard-boiled egg per person.

Process

Cook onion over low heat, not in any fat, for a long time, stirring constantly over very low heat until all the water is evaporated. Continue stirring until onions are slightly brown. THEN add the butter; cook about 15-20 minutes still over low heat. Add 1 tbsp hot water from time to time (texture should be kind of pasty).
Add bere bere. If it looks too dry, add hot water and stir. Cook it about 30-45 minutes - keep stirring frequently. Keep adding hot water if necessary. Be careful not to let it brown, because chili powder will become bitter. Add garlic and ginger and simmer 15 moreminutes. Add water as needed.
Meanwhile, with your other set of free hands, wash chicken peices well, and let stand in salted in lemoned water. Then squeeze each peice really hard to get out as much water as possible.
Then, make little slits in the meat so the sauce will penetrate. Cook the meat in the sauce until meat tis tender, about 30 minutes. Stir from time to time. All this has been uncovered, by the way. Add spices to taste just before removing from stove. Add 1 hard-boiled egg per person, which have been slit (the eggs, not the people), and cook just long enough to heat through. Serve with lots of bread (injera).
2# Vindaloo, India

Ingredients

2 (3 1/2-ounce) bags boil-in-bag brown rice
2 teaspoons peanut oil (or canola oil)
1 large sweet onion (Maui or Vidalia make good choices) or white onion is fine too
2 chicken breasts, but into 1 inch strips
1 1/4 teaspoons garam masala
1/4 teaspoon salt
1 teaspoon mustard seeds
1 inch of fresh ginger
1/2 teaspoon ground red pepper
5 thai peppers (be sure to get as close to the stem as possible, that's where the spice is!)
1 tablespoon garlic
1/4 cup chicken broth
1 (14.5-ounce) can petite diced tomatoes, undrained
1 (8-ounce) can tomato sauce
2 tablespoons chopped fresh cilantro
1 tablespoon red wine vinegar

Process

Prepare rice according to package directions, omitting salt and fat; set aside.
Heat oil in a large nonstick skillet over medium-high heat. Add onion and to pan; sauté 2 minutes. Combine chicken and next 5 ingredients (through thai pepper); toss well; sauté for 5 minutes or until lightly browned. Add garlic.
Add broth to pan, scraping bottom of pan to loosen browned bits, deglaze with red table wine. Add tomatoes and tomato sauce; cook 3 minutes, stirring occasionally. Remove from heat; stir in cilantro and vinegar. Serve over rice.
1# Sambal Ulek, Indonesia

Ingredients

250g (8 oz) fresh red chilies
1 tsp salt
1 tsp soft brown sugar

Process

Heat a heavy frying pan and put in the chilies after 2-3 minutes.
Dry roast over a medium heat for a few minutes.
Cool, then chop finely and pound to a paste with the salt and sugar.
The chili seeds may be taken out, or left in if you want a really fiery relish.
The sambal will keep for a week or so in a jar in the refrigerator.