Kuch Kuch Hota Hai
A make-over story caked with child-innocence and a few love stories running along…
This Karan Johar self-proclaimed "vision of escapism" is entirely based on letters written by a dying mother Teena (played by Rani Mukherjee) for her unborn child. Letters to be read, one by one, on every birthday until the baby turns 8. Really? Did I hear, what the *@#%? And believe it or not, the last letter tells the kid to arrange the marriage of her father Rahul (played by Shahrukh Khan) with one of his old friends Anjali (played by Kajol) from college.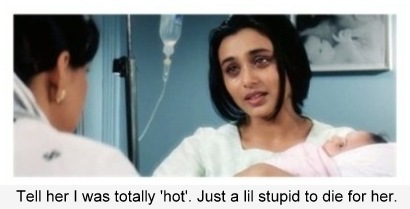 The film had me right in the beginning:
I mean how a dying mum (dying of childbirth) did, in the entire world, have the time to write not 1, not 2 but 8 thoughtful letters?

And how did she know the baby'd be able to read at 1, 2 and 3 years of age? (Yeah she had dreamt of giving birth to a prodigy!!!)

And who knew the girl wouldn't read the letters all at once? Or just wouldn't bother to read any of them at all? (Or just that it'd be a girl in the first place? It's a crime, remember Karan?)

And what if the grand ma, assigned the job of handing the baby one letter for each birthday, died before child Anjali turned 8?

I mean why in hell did she want her husband to wait for 8 years and let the child do the honours? Teena could have simply asked Rahul to re-marry or ask her mother-in-law to convince him to do the same. Why so much hassle?

And the worst of all, did she perceive Anjali as a loser who could never find a worthy man for another 8 years? Or is she a sadist to want her husband's ex-lover to pine over him for that long? Teena, get a life sissy! (Yeah, in hell!)
The incredible-match-making-through-letters-saga from the Johar's.
And what's with the whole "Hum ek baar jeete hain ek baar marte hain shaadi bhi ek baar hoti hai aur pyar, pyar bhi ek hi baar hota hai" sh**t? I could never figure out why Karan Johar and team injected this Pehla aur aakhri pyaar crap into us youngsters back then. I still remember one of my school friends writing in my scrapbook- "I'm in search of a friend like Rahul in Kuch Kuch Hota Hai."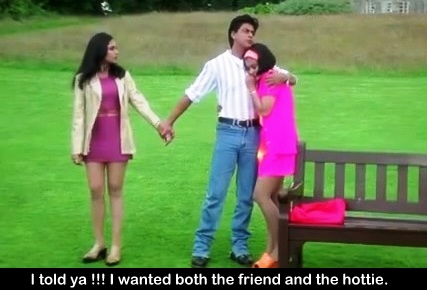 Why? Why in the entire world, Rahul?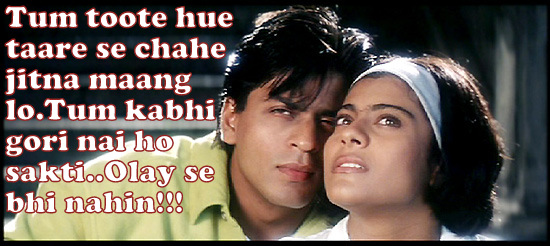 Because he could never really get past Anjali's tom-boy looks and fell for the first Oxford return, 'short-skirt girl' entering the college? (Despite short skirts being strictly prohibited, as declared by the principal (played by Anupam Kher), our dear Teena continues to wear them for the rest of the film). We don't blame Rahul for his choice, do we? After all, unlike portrayed in the film, they are both spoiled and undisciplined.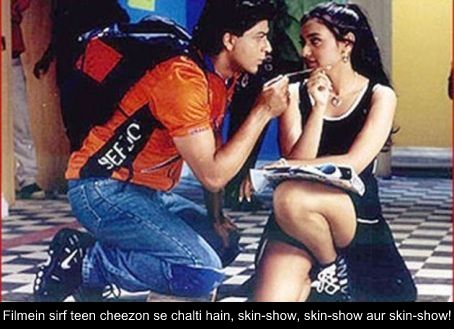 When questioned for dressing indecent, Teena explains "I just landed, couldn't unpack and wore what came handy" but following a few scenes we see her all traditionally clad when she visits the temple. What a shame. Hypocrite!!! (She was trying to impress God or what?)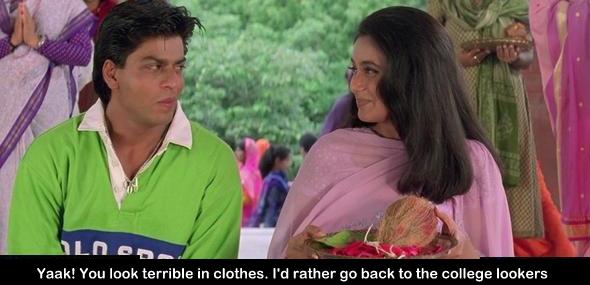 Or because he realized he actually loved Anjali when he saw her all made up and dressed in a sari? Which, by the way, is her only casual garment in the second half. How fake is that?
I mean what was wrong with the studious, very charming, sensible, non-bitchy basket ball player Anjali? O, How much I adored her! Alas! Her fate was sealed long back.
Though I did not like 'Rahul' even back then but I bet my generation can still blame their super-screwed love lives on Karan Johar and his characters. Why couldn't we just realise life was different, so different from a Karan Johar extravaganza? We had to learn it the hard way.
Now, most of you reading this piece must have been to college right? Which student on earth whistled at his lecturer and got a smile in return? Well Rahul did. Don't believe me? Watch this, I'd suggest from counters 0:46:10 and you'd know how privileged our hero is. Karan's to be precise!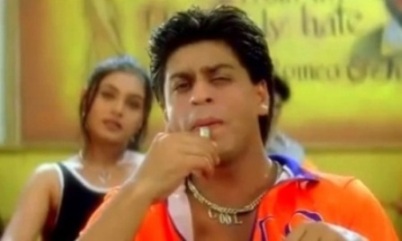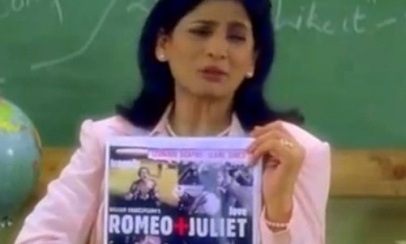 Plus of course the usual Romeo-Juliet junk. Are there no other topics to read about in college or what? And could you guess what the whole lesson was about? Well, "Pyar dosti hai"!!! What? Yes, that's it. Love is friendship! To make you feel better: I believed it back then! Sigh :(
So what happens to the story? The lil hero-girl (young Anjali) does everything possible to fulfil her dead mum's wish, naturally! This includes:
Praying for a delay in the approaching Anjali-Aman (played by Salman, Yes 'Sajan ji ghar ae') wedding,

Going to a summer camp where she knew Anjali (Kajol) teaches singing and dancing (O yes the ball player transforms into a sophisticated music-person in the second half!),

Be-fooling him by faking a cold and calling her father over there (Parents are allowed at this camp, all right?),

Arranging for private moments so that the two could mingle; play basketball, dumb charades, sing, dance and what not…(We have seen kids playing Cupid in Bollywood films earlier, have we?)

Finally revealing the couple's history to Aman just before the wedding.
Too much for a kid,eh? I'm glad we didn't have junior super-heroes back then!
It suddenly hit me; does its title have anything to do with the film? Well, apart from of course the eternal, cheesy 'Kuch Kuch Hota Hai Anjali tum nahin samjhogi',which apparently sounded to me like 'Kuch kuch baar baar ho jata hai Anjali tum to samajh hi gai hogi' in the second half. (Of course I'm talking about Kajol's make-over). Though Karan did try to prove Rahul's virtue by pulling in Teena's 'aatma', but we know you better Rahul! Have a look at the transformation:

So, why did masterpieces like Satya released in the same year (1998) not fare as well as KKHH? This Dharma Production claimed huge commercial success worldwide and did so well at the box-office that it has not only become an all-time blockbuster but also has a fan-following of its own, and has now turned into one of the Bollywood's "Best Romantic Movies Ever". Not released though,the film even has an animated remake called Koochie Koochie Hota Hai directed by Tarun Mansukhani. With that happening, I know I would helplessly hear the same about 'Student of The Year' in my geezer hood. I'm sick worried about my old age, I sure am.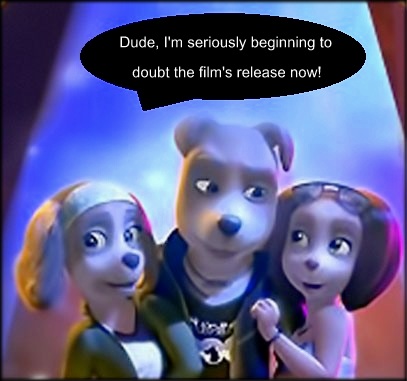 To sum it up, we found out, how films like Kuch Kuch Hota Hai with an awful story line, absurd title, and ridiculous characterisation and with no substance what so ever, can work wonders for the Indian Box office. All it takes is a Karan Johar, a Shahrukh Khan and a few others. We Indians just fall for the kind, somehow, every time. Don't believe me? Have you not watched Kabhi Khushi Kabhi Gham, My Name is Khan and Kal Ho Na Ho?
Wait until we rip another Bollywood blockbuster apart, even easier, you decide who's next (tell us in the comment box below) and we'd come up with our version of yet another terrible Bollywood blockbuster that shook the nation. Stick around!