Nothing was more dear to these men than the independence of our nation. Independence, that we so casually take for granted, was once a forbidden fruit. For our revolutionaries, it was like breathing every moment of the day, as was getting the country freedom as soon as possible. Thousands died, and are still dying, in the path of freedom of our motherland. Some we are aware of and many we are not. Let us pledge to try and bring back the emotion that made these martyrs leave behind every comfort of life to get us the free Bharat we live in today. Jai Hind!
1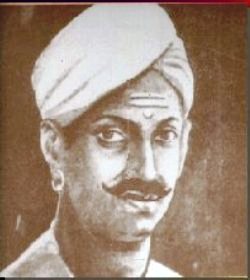 Which place was the Bengal Native Infantry sepoy, Mangal Pandey, originally from?
There was a wide range of factors causing apprehension and mistrust in the Bengal Army immediately prior to 1857 mutiny. Pandey's reference to cartridges is usually attributed to a new type of bullet cartridge used in the Enfield P-53 rifle which was to be introduced in the Bengal Army that year. The cartridge was thought to be greased with animal fat, primarily from cows and pigs, which could not be consumed by Hindus and Muslims respectively.
Barrackpore, Calcutta
Balia, Uttar Pradesh
Meerut, Uttar Pradesh
Hyderabad, Andhra Pradesh
2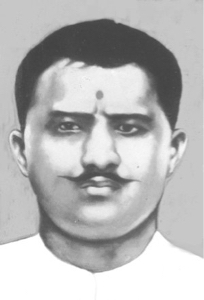 Sarfaroshi ki tamanna ab hamare dil me hai, dekhna hai zor kitna bazu-e-qatil me hai..." Who wrote this patriotic poem, back in 1921?
The poem was used as a freedom war cry during the British Raj period in India. It was first published in the journal Sabah, published from Delhi. It was written as an ode to the young generation of freedom fighters of the Indian independence movement.
Bhagat Singh
Ram Prasad Bismil
Bismil Azimabadi
Ashfaqullah Khan
3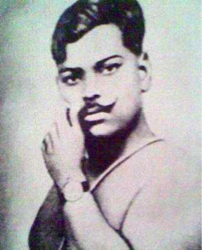 What is the real name of Chandra Shekhar 'Azad'?
In December 1921, when Mahatma Gandhi launched the Non-Cooperation Movement, Chandra Shekhar, then a 15-year-old student, joined. He was arrested and when produced before a magistrate, he gave his name as "Azad" (The Free), his father's name as "Swatantrata" (Independence) and his residence as "Jail". Legend has it that while he adopted the name, he vowed the police would never capture him alive.
Chadra Shekhar Srivastava
Chandra Shekhar Pandey
Chandrashekar Mishra
Chandra Shekhar Tiwari
4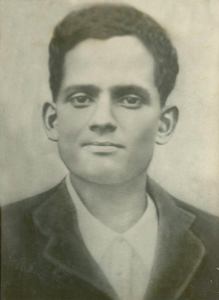 Which revolutionary and comrade of Bhagat Singh's died in jail after a 63-day hunger strike ?
On 13 July 1929, Bhagat Singh and his aides began a hunger strike demanding equality for Indian political prisoners with those from Europe. The uniforms that Indian prisoners wore in jail were unwashed for several days and rats and cockroaches roamed the kitchen area making the food unsafe to eat. Indian inmates were not given any reading material such as newspapers, nor paper to write on while the shape of the British prisoners in the same jail was strikingly different.
Ajoy Ghosh
Jatindra Nath Das
Batukeshwar Dutt
Shiv Verma
5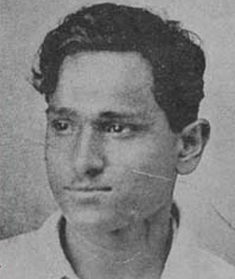 Who aided Bhagat Singh in the Central assembly bombing incident, that led to his final arrest before his death?
The British government passed the Defence of India Act to give more power to the police force. The motive behind it was to combat revolutionaries like Bhagat Singh. However, the Act proceeded under the ordinance that affirmed that it was in the best interest of the common man. To retaliate, the Hindustan Socialist Republican Army planned to explode a bomb in the Central Legislative Assembly where the ordinance was going to be passed. This idea was originated by Bhagat Singh.
Sukhdev
Rajguru
Chandra Shekhar Azad
Batukeshwar Dutt
6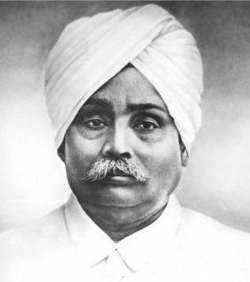 Which British official was responsible for the death of Lala Lajpat Rai?
In 1928, the British set up the Simon Commission, to report on the political scenario in India. Indians boycotted the Commission, because it did not include a single Indian in its membership, and it faced nation-wide protests. Lala Lajpat Rai led a silent protest march against it. The then superintendent of police ordered the force to lathi-charge the protesters and personally attacked Lala Ji. Although Bhagat Singh did not witness the event, he vowed to avenge Lala ji's death and joined his comrades in a plot to kill the Superintendent.
General Reginald Edward Harry Dyer
John P. Saunders
James A. Scott
Lieutenant Michael O'Dwyer
7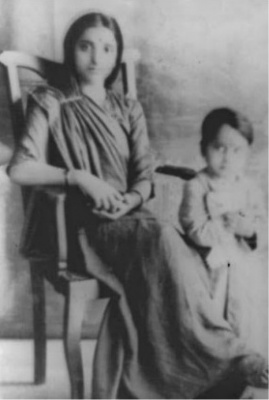 Which woman revolutionary played Bhagat Singh's wife to help the escape of Bhagat Singh and Rajguru after the planned killing of a British policeman?
On 19 December 1928, Sukhdev called the wife of HSRA member, Bhagwati Charan Vohra, for help, which she agreed to extend. They decided to catch the train departing from Lahore to Howrah (Calcutta). Adorned in western attire and carrying her sleeping child, Singh and her passed as a young couple, while Rajguru carried their luggage as their servant. She also led the funeral procession that mourned the jail-death of Jatindra Nath Das and handed Das' body to Subhash Chandra Bose in Calcutta. She was the first woman freedom fighter to come out as a violent protestor who shot at a police sergeant and his wife outside a police station in Bombay, later called the Lamington road outrage, which was a retaliation to the death sentence of Bhagat Singh, Sukhdev, and Rajguru.
Shakuntala Devi
Sushila Devi
Durgawati Devi
Sharda Devi
8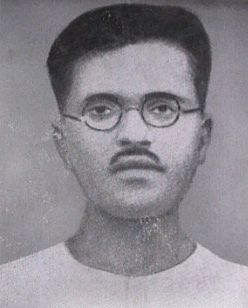 Who wrote the rebuttal piece "The Philosophy of the Bomb" in response to Mahatma Gandhi's "The Cult of the Bomb" article that criticized revolutionary activities?
In December 1929, a bomb exploded under the Viceroy Irwin's special train, which he narrowly escaped. Gandhiji thanked God for the Viceroy's escape and condemned, in his article "The Cult of the Bomb", the revolutionaries for the act. It was in reply to Gandhiji's article that this outstanding document was written in consultation with Chandra Shekhar Azad. This revolutionary was also involved in a plot, with Azad and comrades, to free Bhagat Singh from prison by raiding a police van during his transfer from Borstal to Central Jail in Lahore. He died while he was testing a bomb near the Ravi when it exploded prematurely in his hand.
Jatindra Nath Das
Bimal Prasad Jain
Babu Ram Gupta
Bhagwati Charan Vohra
9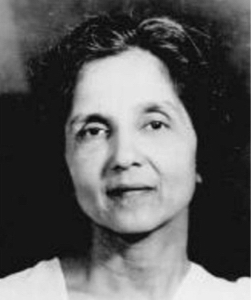 Who presided over the AICC session, on 9th August 1942, after the arrest of all major political leaders during the Quit India Movement?
After the arrest of major leaders of the Indian National Congress, this revolutionary presided over the All India Congress Committee (AICC) session. Despite several police warnings and government notices for banning public processions and assemblies, a large crowd gathered at Mumbai's Gowalia Tank Maidan where she hoisted the INC flag. Later, she also supported the mutiny of the armed forces (1946) that began from Bombay.
Sarojini Naidu
Matangini Hazra
Aruna Asaf Ali
Usha Mehta
10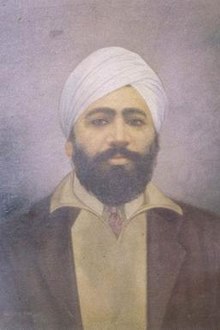 Which British army officer did Sardar Udham Singh assassinate, in London, as a retaliation for the Amritsar Jallianwala Bagh massacre?
An estimated 1,800 people were killed and over 1,200 were wounded in the Jallianwala Bagh Massacre. Udham Singh was deeply affected by the tragedy. The governor of Punjab had ordered the massacre, and Udham Singh held him responsible. On 13 March 1940, the governor was to speak at a joint meeting of the East India Association and the Central Asian Society at Caxton Hall, London. Singh shot him twice as he moved towards the speaking platform, killing him almost immediately. The assassination is said to be his last effort to draw attention to British atrocities in India.
Lord Lawrence Dundas
Sir Louis Dane
Colonel Reginald Edward Dyer
Sir Michael O'Dwyer