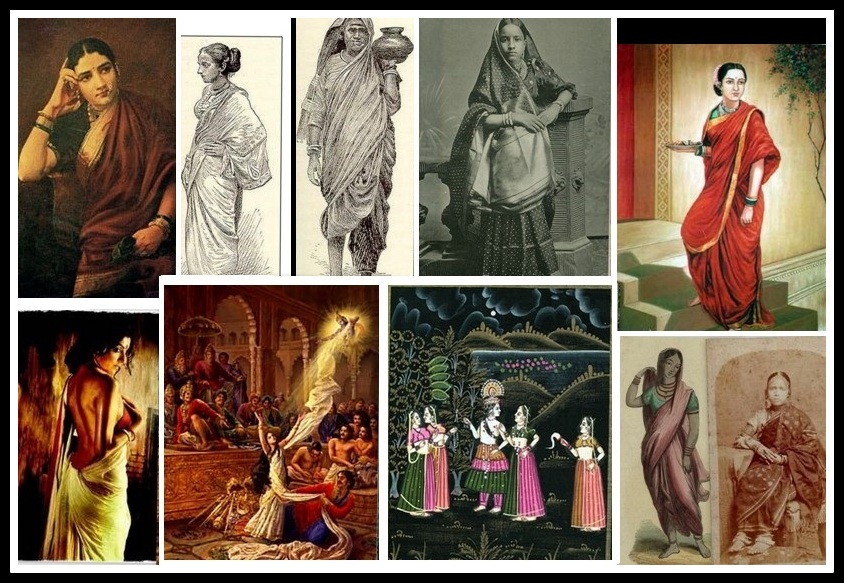 Epitome of culture, the saree stands for elegance in Indian Women.
Our own creation, the saree is said to be developed both in North and South India as a garment of its own. From Draupadi to the woman of today, the saree has protected and glamorized the female wardrobe.
Traced back to the Indus Valley Civilization (2800–1800 BC), the earliest depiction of the saree is said to be the one worn by a female Indus valley priest wearing a drape.
The Saree, four to nine yards lengthy, is said to be a perfectly designed garment to exhibit the female curves in the right places.
The types of sarees adorned all around the country are as varied as its cultures, religions and languages. Rockying (Facebook,Twitter) manages to get lifted by the boundless Indian 'aanchal' to travel through the country, its colors, arts and textiles. Slide on ladies (and gentlemen)...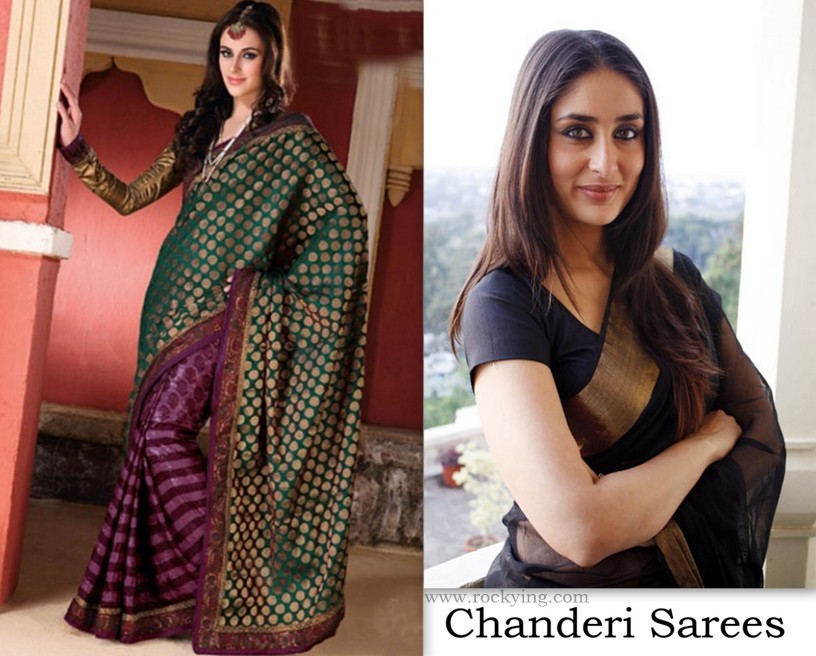 THE CENTRAL WAY
Chanderi Sarees
Origin
Traditionally woven in the city of Chanderi in Madhya Pradesh, this kind is famous for its sarees made with mix of silk and cotton.
Price
The more costly ones spot real silver and gold (zari) woven borders costing Rs. 20,000 or more.
Distinct
Very light weight and simple, this saree is a must have for every woman. Kareena Kapoor flaunts her simple self in this black Chanderi cotton silk saree. This sure is a sign of royalty.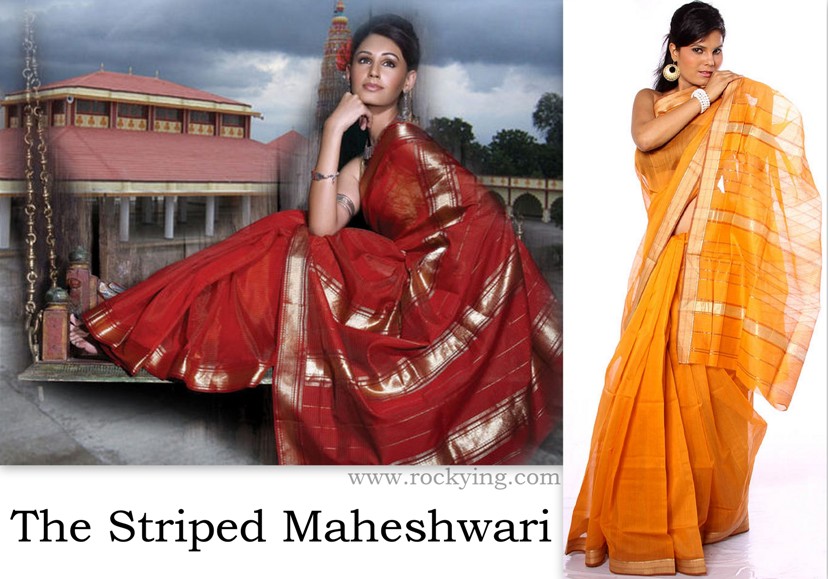 Maheshwari Sarees
Origin
Conceived and designed by Queen Ahilya Bai Holkar herself, Maheshwari were specially crafted 9-yard sarees to be gifted to royal guests and relatives.
Price
These can be bought for prices between Rs 1500 and Rs 5000.
Design
The designs used on these sarees were said to be inspired by drawings on the Maheshwari fort walls. The 'Chatai' (Mat) pattern, 'Chameli ka phool' (chameli flower) pattern, the 'Eent' (Brick) pattern and the 'Heera' (Diamond) pattern are a few popular designs used in these sarees. Distinctive in its five-stripes pallu style, the Maheshwari Saree re-defines neatness.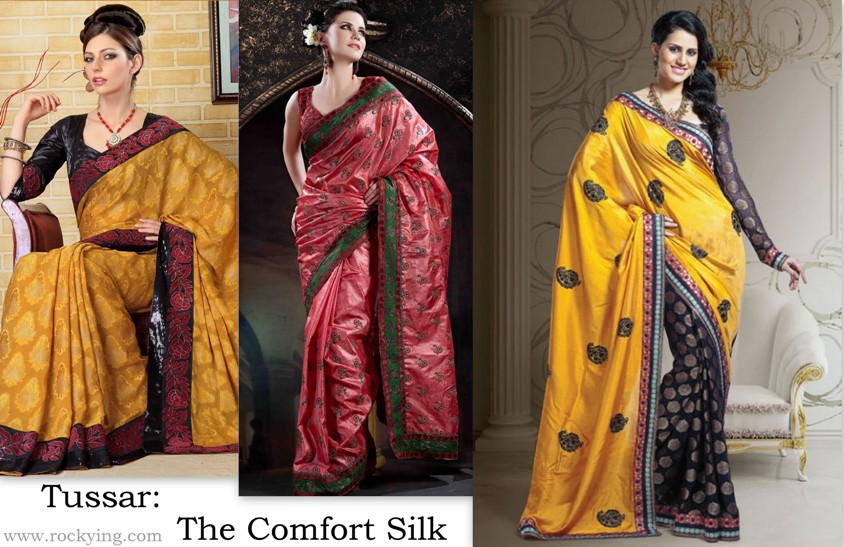 Kosa/Tussar Silk
Origin
Known for its comfort all around the world, Kosa silk is mainly produced in Jharkhand, Bihar, Chhattisgarh and Madhya Pradesh.
Fabric
Made from a thread produced by a worm similar to the silk worm, kosa is obtained naturally in shades of cream, honey, beige, yellow and ash, and is extracted from cocoons specially grown on Arjun and Sal trees.
Price
This extremely comfy fabric comes at a cost that depends upon the purity of silk, handwork and accessories used on it. Can be bought for prices starting from Rs 1500 to Rs 20, 000 and above.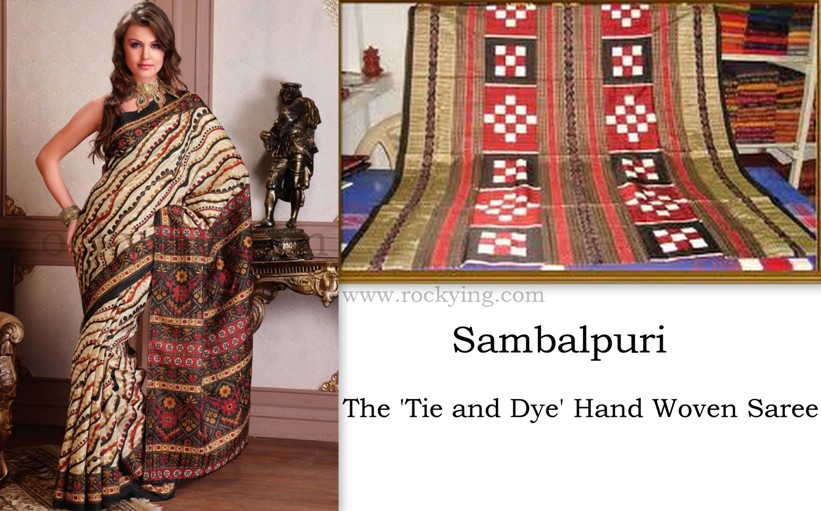 Sambalpuri
Origin
This traditional hand-woven Ikkat (Tie and Dye) Sari is mainly produced in Orissa.
Distinct
Known for its incorporation of conventional motifs like shankha (shell), chakra (wheel) and phool (flower),the high point of this saree remains its craftsmanship of 'Bandhakala', the Tie-Dye art reverberated in its complex weaving. To our surprise, the tie and dye is performed on threads and then later woven into a fabric. Phew!
EAST IS EAST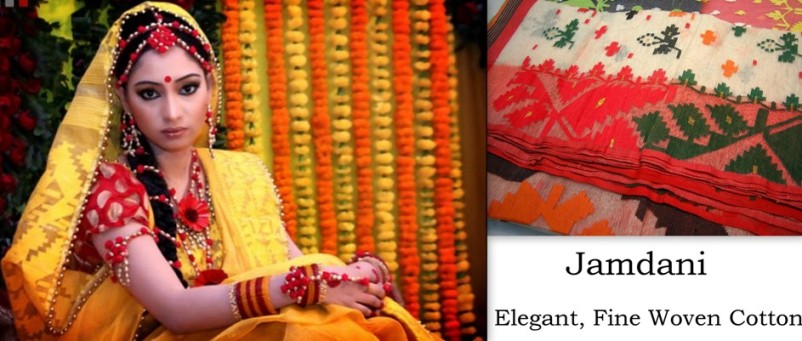 Jamdani Sarees
Origin
Historically referred to as muslin, the Jamdani weaving custom originates in Bengal.
Price
This handloom woven fabric made of fine, pure cotton is a bit of an expensive affair. In 1903, when a silk saree cost as little as Rs. 5, a Jamdani costed 500 rupees.
Distinct
Trendy and classy, Jamdani is majorly sought after by fashionable professional women. Elegance woven, is what we call it!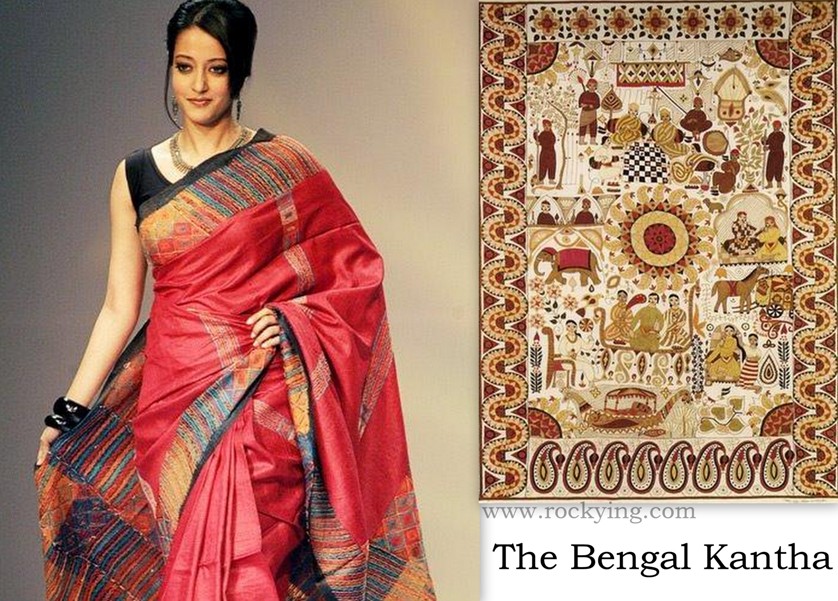 Kantha Sarees
Origin
Traditional art of a few thousand years ago, Kantha literally means 'quilt' in Bengali. This 'Quilt Art' (popularly known as Nakshi Kantha) of Bengal, is patterned running stitching that covers the entire surface of a piece.
Distinct
Stunningly beautiful portrayal of real life on fabric, no Kantha piece is ever repeated. Bong girl Raima walks the ramp in this sizzling red Kantha saree. Homage in style!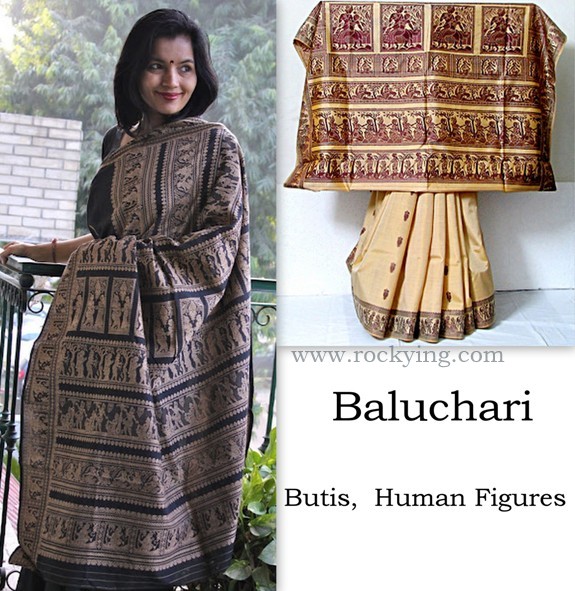 Baluchari Sarees
Origin
Popularly known for its embroidery style of human figures, this saree originates in West Bengal.
Distinct
The body is entirely covered with small butis and a beautiful floral design runs across the edges. The pallu carries detailed designs depicting narrative motifs, such as those of Radha-Krishna.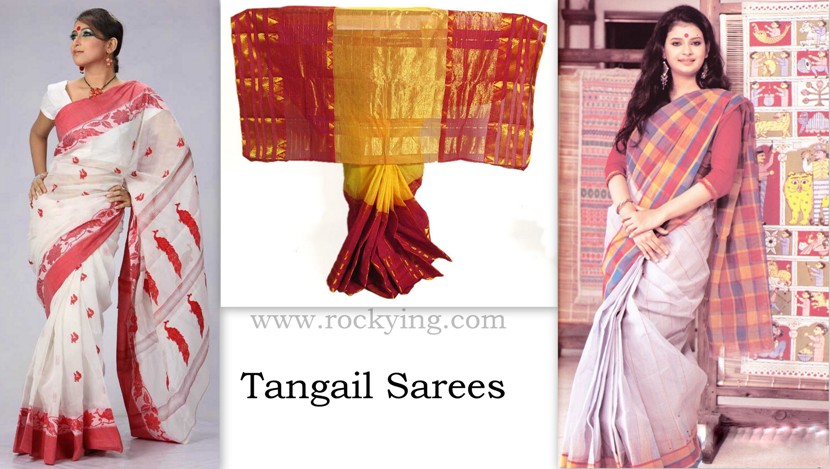 Tangail Saree
Design/Fabric
Based on the Jamdani weaving styles, Tangail is an opaque and heavier saree made of both cotton and silk fabrics. Cautiously weaved patterns in this saree give out an embroidered effect. Uniformly textured, Tangail has extra warp in the border.
Origin
Coming from the villages of West Bengal, Tangail is very popular in east India.
Price
The total turnover of Tangail saris exceeds Rs.15crores per annum in a price range of Rs. 100 to Rs. 1500 and above.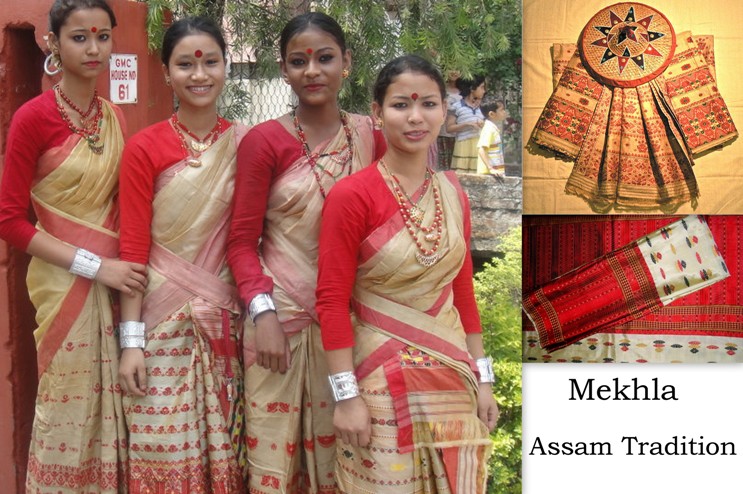 Mekhela Chador
Origin
Popularly known as 'Mekhela Chador' , Mekhla is the traditional attire of Assamese women.
Distinct
Assam receives a geographical indication due to its production of Muga silk. The Muga silk fabric cannot be dyed or bleached and is worn in its natural golden color. The fabric can be hand-washed and is said to gain lustre after every wash. It is also believed that the fabric is so durable that it often lasts longer than its owner.
This is a silk saree that doesn't need dry cleaning. Yay!
Fabric
These are made in cotton and silk fabrics. Assam silk refers to three kinds of silks: Muga, Pat and Eri. Muga being the most famous for its glossy fine texture and durability.
Price
The cotton ones can be bought for Rs. 500 and above the silk ones would cost Rs. 1000 and above.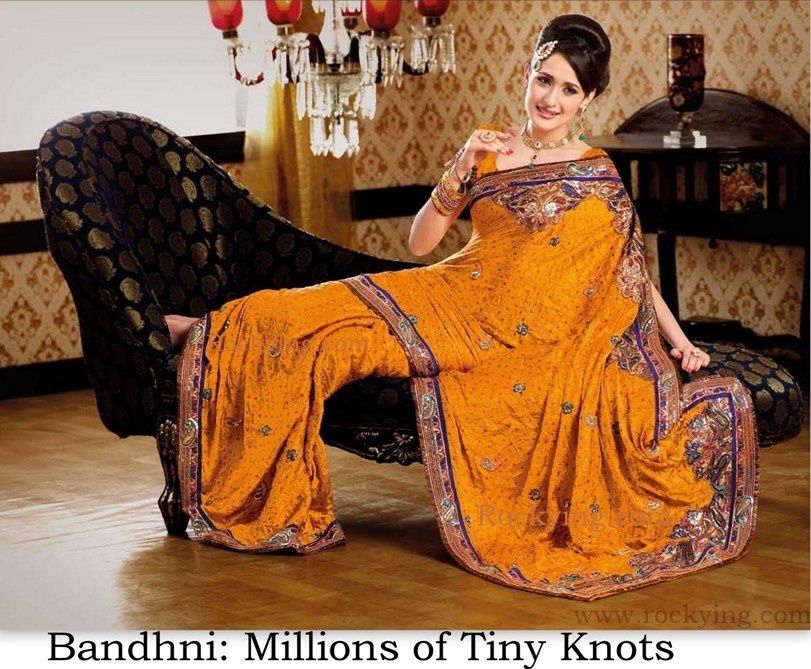 Western Style
Bandhni Sarees
Origin
Bandhni is the most popular form of tie and dye practiced mainly in Rajasthan and Gujarat.
Distinct
Use of only dark colors and mostly red and black backgrounds, is peculiar to this style of tie and dye. Millions of tiny knots called 'Bheendi' are tied to give out a beauty as this.
Price
The saree ranges between Rs. 50- Rs. 20,000 and above.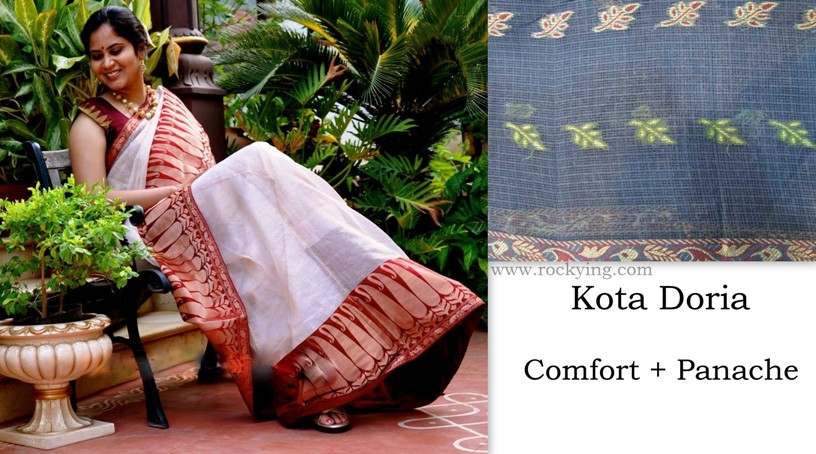 Kota Doria Sarees
Origin
Still popularly known as 'Masuria' due to its Mysore origin, Kota Doria is mainly produced at Kota, Rajasthan. These sarees are also made in Mau and nearby areas of Uttar Pradesh.
Design/Fabric
Doria meaning thread, Kota sarees made of pure cotton and silk, have thousands of square patterns called 'Khats' on them.
Distinct
Perfect for Indian summers, Kota is synonymous with style and comfort. Longing for one, Eh?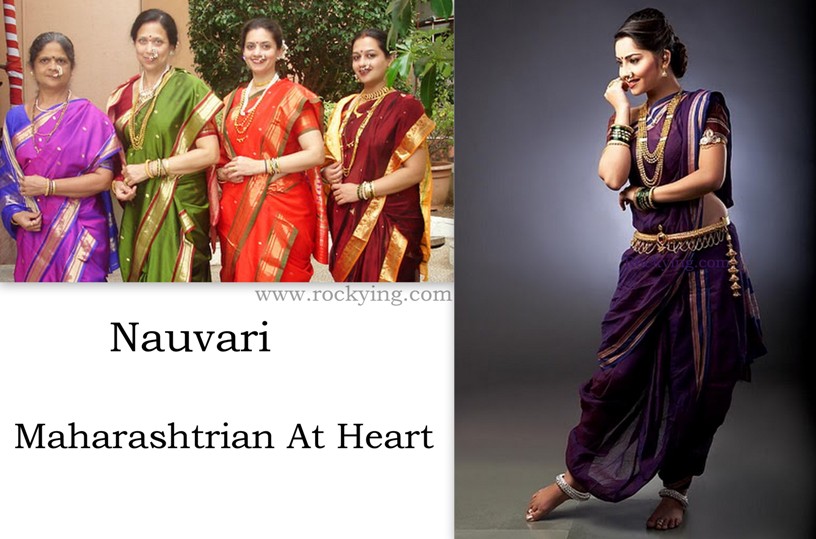 Lugade Sarees
Origin
Popularly referred to as 'Nauvari' in Marathi, this saree is the secret desire of every Maharashtrian lass.
Distinct
Worn like a dhoti, Lugade is extremely difficult to put on. Hence the novel concept of a "readymade Nauvari saree" became an instant hit. Go grab one for that sexy Nauvari look!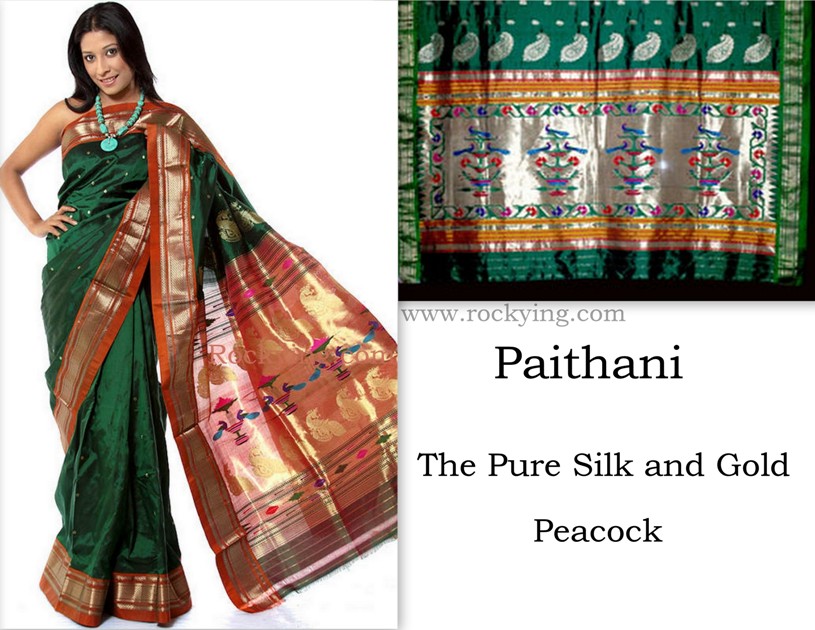 Paithani Sarees
Origin
This fine silk saree is named after the Paithan town in Aurangabad, Maharashtra state.
Design
Characterized by borders of an oblique square design and a pallu with a peacock design, Paithani is known for its intricate weave of pure silk and gold.
Distinct
Demanding a preparation time ranging from a month to years, this saree uses zari exclusively procured from Surat (Gujarat). Given the time and material required, this is a rather expensive apparel to afford.
The most expensive sarees known, these are available at prices ranging from Rs. 4000- Rs. 50, 00,000. Big-ticket? Yeah!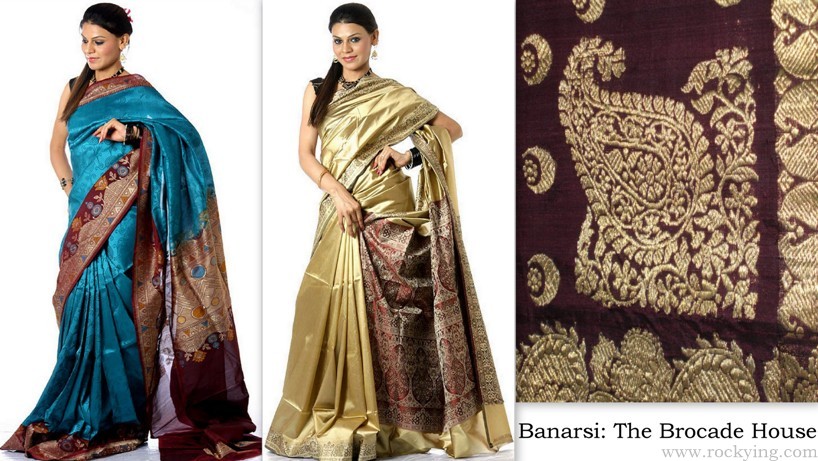 UP NORTH
Banarsi Sarees
Distinct
One of the finest saris in India, Banarsi is known for its gold and silver brocade or zari, fine silk and grand embroidery.
Origin/Fabric
Originating in the Varanasi district of Uttar Pradesh, there are four main varieties of Banarsi sarees based on the fabric used-Pure Silk (Katan), Organza (Kora), Georgette and Shattir.
Design/Price
Jangla, tanchui, Vaskat, Cutwork, Tissue and butidar are the many designs of Banarsi sarees ranging from Rs. 1000 to Rs. 3,40,000 and above.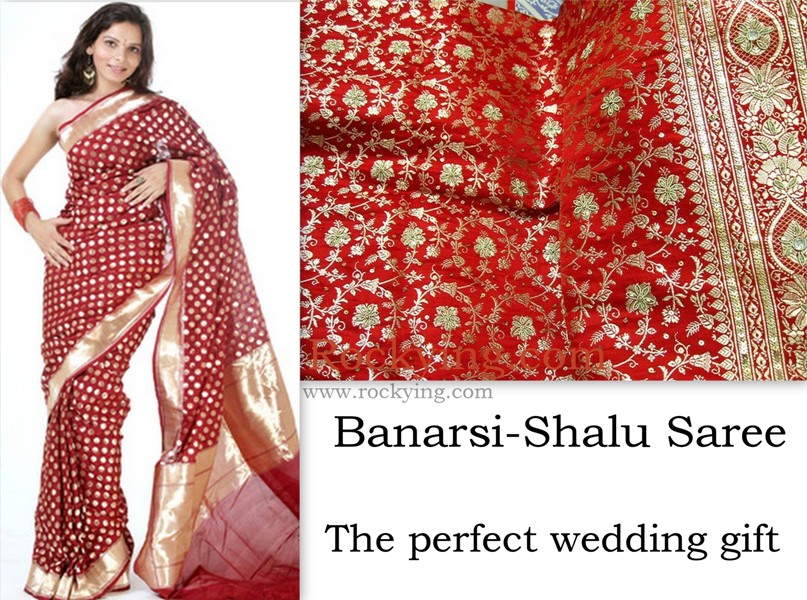 Shalu Sarees
A regional variant of the banarsi saree, the Shalu is mainly worn and gifted in weddings.
Distinct
Too heavy to be worn casually, this saree marks the heaviest brocade work executed on dark shade fabrics like red and maroon best suited for weddings.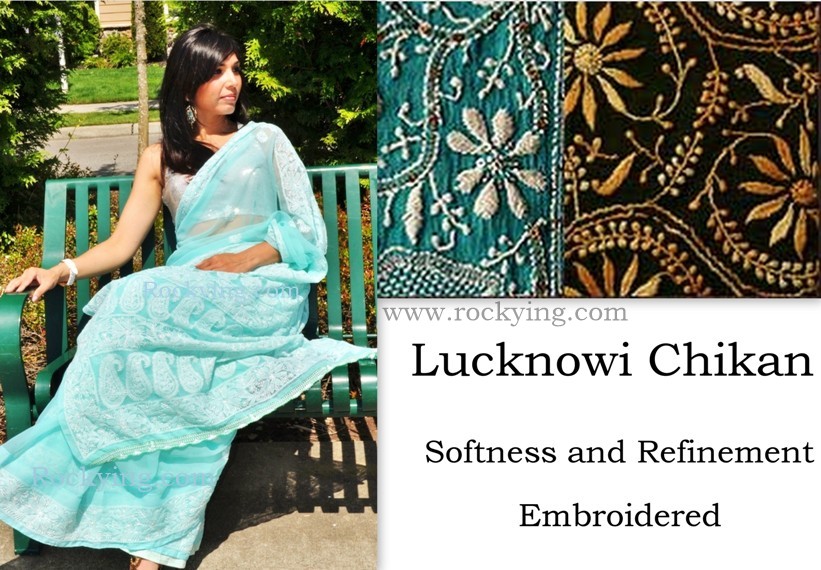 Chikankari
Origin
Believed to have been premised by Nur Jahan, Mughal emperor Jahangir's wife, Chikan literally means embroidery. Derived from the Persian word 'Chakin' meaning a cloth wrought with needle work, Chikan was basically invented in Lucknow.
Fabric/Design
Performed mainly on cotton, georgette and silk fabrics, Chikankari is carried out with block printing patterns on the ground fabric, then stitched by the embroiderer and later washed to remove traces of the print.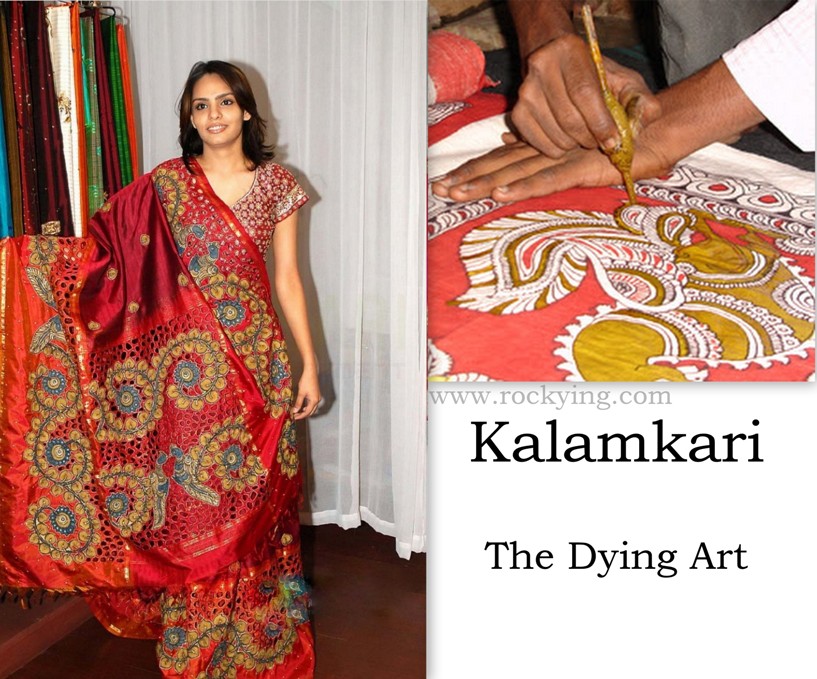 DOWN SOUTH
Kalamkaari
Origin
'Kalam' meaning pen and 'Kari' meaning work, Kalam-kari the 3000-year-old traditional craft of Andhra Pradesh, originated from Srikalahasti and Machilipatnam.
Distinct
The Srikalahasti style, drawing inspiration from temples and Hindu mythologies, involves graphics using the pen alone. The second (Machilipatnam) has a distinct Islamic influence involving work with the pen as well as engraved wooded blocks.
While the former style has flourished with the villages developed into a craftsmen's hub, the Machilipatnam tradition lags behind and the future of this Islamic style of the art looks dark.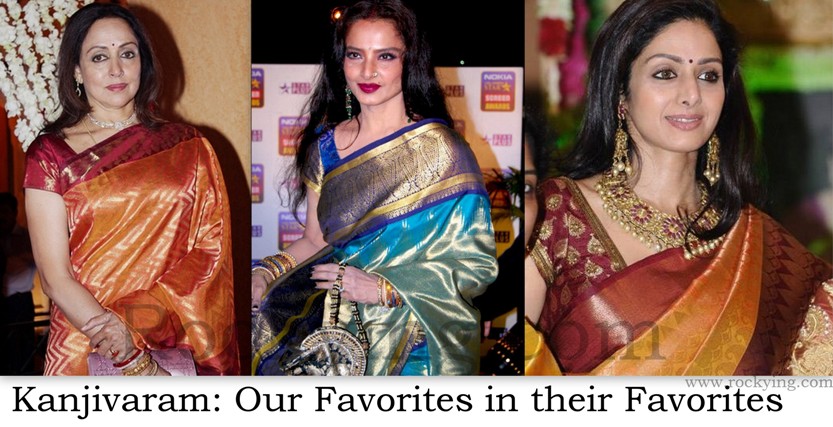 Kanjivaram Sarees
Origin
Traditionally made by weavers from Kanchipuram located in Tamil Nadu, Kanjivaram sarees are woven naturally and are considered to be of the highest quality among saris.
Distinct
Kanjivaram is differentiated by its wide contrast borders.
Price
These can cost anywhere between Rs 2500 to Rs. 1,00,000 or more depending on the intricacy of work and material used.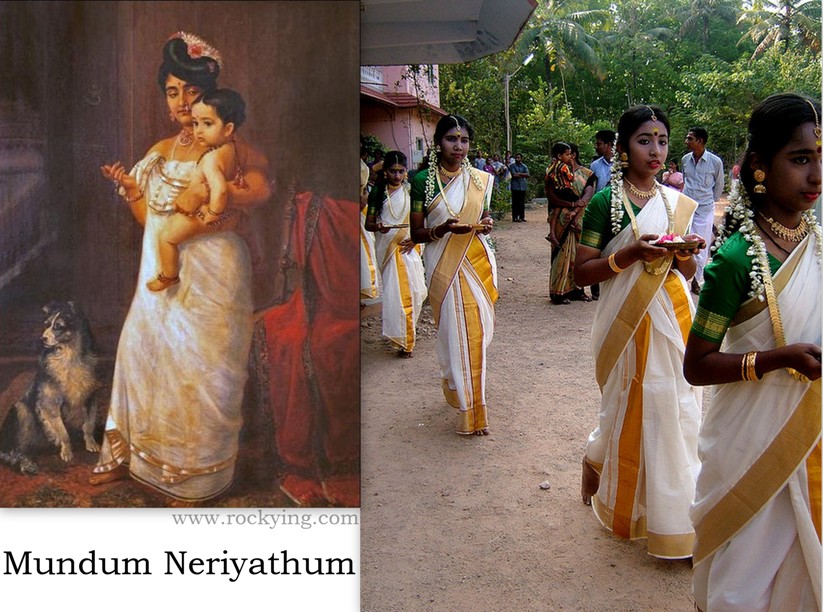 Mundum Neriyathum Sarees
Origin
Traditional clothing of women in Kerala, Mundum is the oldest remnant of the ancient form of the saree that covered only the lower part of the body.
Distinct
It can be worn in either the traditional style (left) with the neriyathu tucked inside the blouse, or in the modern style (right) with the neriyathu worn over the left shoulder. White or cream in color, this saree consists of two pieces of cloth.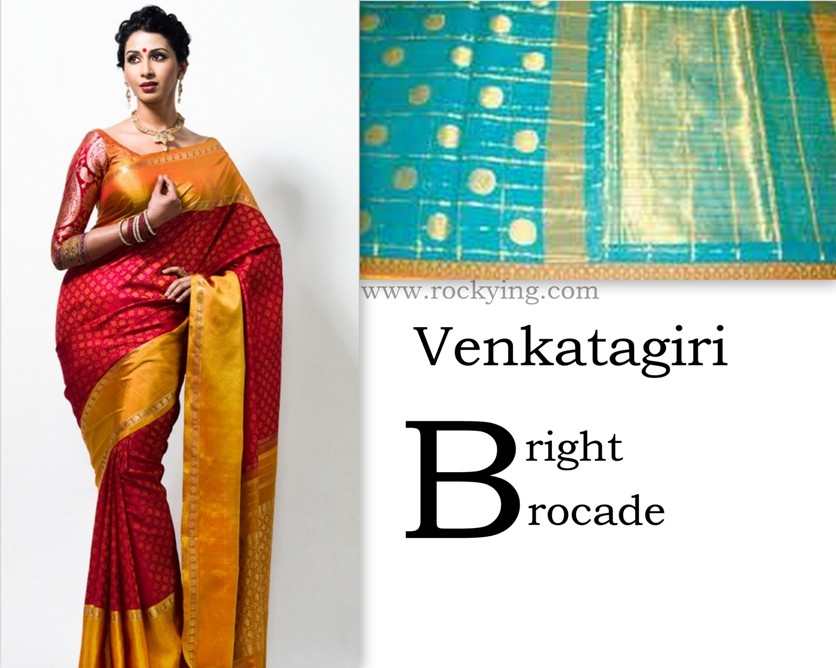 Venkatagiri Sarees
Origin
Developed from Venkatagiri in Nellore district of Andhra Pradesh, these sarees have refined forms of gold all over.
Design/Fabric
Woven in Jamdani style these sarees are available in cotton and silk.
Distinct
Bright Venkatagiri sarees have pleasant colors with ornamental golden zari butis, leaves, parrots or simple geometrical designs.
Price
Affordable sarees at Rs. 300 - Rs. 15000.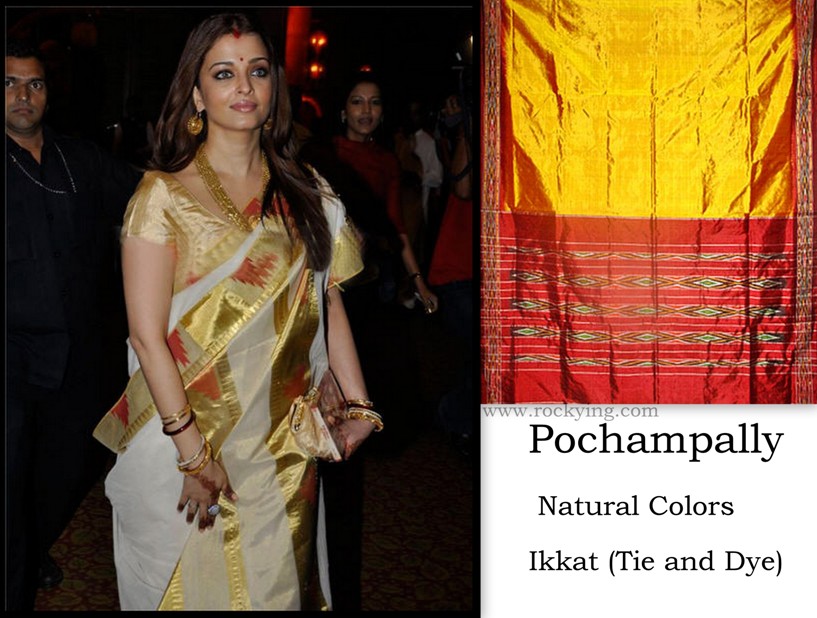 Pochampally Sarees
Newly married Aishwarya Rai dons a sico Pochampally saree. Gorgeous Indian beauty!
Origin
Pochampally, a place in the Nalgonda district of Andhra Pradesh, is known for its art of weaving, the tie and dye, popularly called the Ikkat.
Fabric
Ikkat is performed on cotton, silk and sico (a mix of silk and cotton) fabrics.
Distinct
The uniqueness lies in the transfer of design and coloring onto threads first and then weaving them together. The best part is the use of colors from natural resources and their blends. Wow! Perfectly natural!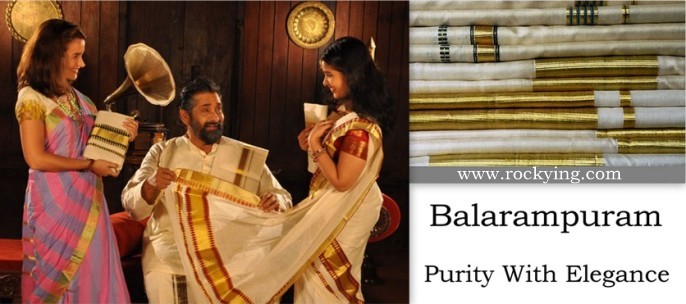 Balarampuram Sarees
Origin
Balarampuram, a small town in Thiruvananthapuram district of Kerala, famous for its unparalleled craftsmanship is an ideal heirloom.
Distinct
The first handloom product in Kerala to receive the Intellectual Property Rights (IPR) protection through Geographical Indications Act (GI Act), the Balarampuram have weavers using a primitive type of throw-shuttle pit looms for the production of exclusively cotton fabrics with pure zari.
Price
These zari sarees can be bought for Rs 2000 and above.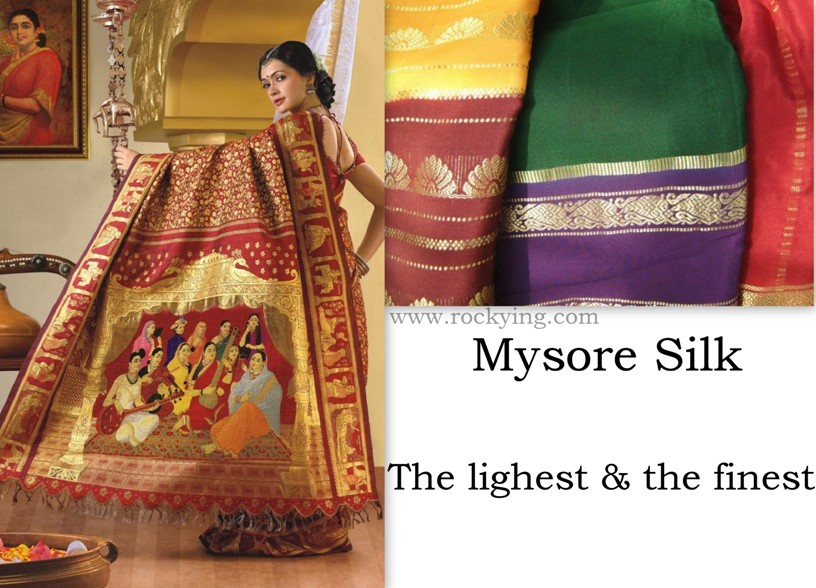 Mysore Silk Sarees
Origin
Known worldwide for its soft texture, Mysore Silk Saree takes its name from the city of Mysore in the state of Karnataka.
Distinct
Purest and finest in the country, the Mysore Silk is loved for its unique sheen and regal look. Sarees made out of these top the list of best South Silks popular in India. The high-point of this saree is its availability also in scented flavors. Fragrant fabrics exported from Japan are weaved into extremely gorgeous sarees like this. What's your scent, woman?
Price
Rs. 1300- Rs. 50,000 and above.