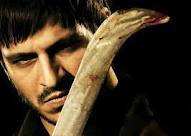 He has been away from big budget movies for a while now, and Bollywood actor Vivek Oberoi sure had reasons to celebrate when Krissh2 fell in his kitty. After a dry year 2011, Vivek will soon be seen in Krissh 2 in a negative role 'Kaal'. Vivek Oberoi who made his debut with Ram Gopal Varma's Company starting with a gray, any newcomer would avoid then, had big plans in mind.
Son of veteran actor Suresh Oberoi, Vivek made an impression with his cute lover boy image along with Rani Mukerji and their crackling chemistry in Shaad Ali's Saathiya. Following with Yuva and Shoot Out at Lokhandwaala, Vivek did manage to score a few hits before his career went for a down slide. Currently, with Krishh 2 to his favor, Vivek is so elated that he went on to tell that the moment he read the script in Rakesh Roshan's office, he immediately seeked Sr, Roshan's blessings and signed the film. This won't be the first time Vivek will donne the villain's hat. Vivek also played a negative character in Apoorva Lakhia's Shootout at Lokhandwaala, for which he won the IIFA Award for the Best Negative role. However, it is the Sanjay Gupta's Shoot out at Wadala, that has brought a hint of embarrassment for the actor. According to sources the actor has been kicked out of the film since he could not make up his mind about it. Well, as long as Vivek manages to get himself meaty roles in good films, nothing can really work against the actor.
It's not just the big budget Krrish that would give him limelight, but also his following flick with Mallika Sherawat, Kismat Love Paisa Dilli and Zilla Ghaziabad will soon hit the theaters. Reportedly, Vivek is very happy with the environment on the sets of Krisshh 2 and has Rakesh Roshan and Hrithik Roshan boosting his confidence from time to time. Let's hope with Krishh 2 Vivek manges to once again establish himself in the industry as the new Super-Villian of Bollywood and the year ahead helps establish himself more firmly in the Bollywood industry.