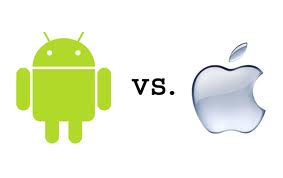 Apple's iOS overtook Google's Android to become the leading smartphone platform in the US in the fourth quarter of 2011, thanks to strong demand for its latest iPhone model, a study said Wednesday.

"Overall, Apple sales are now growing at a faster rate than Android across the nine countries we cover," Xinhua reported quoting Dominic Sunnebo, global consumer insight director at the research firm. In October-December quarter last year, Apple's share of the US smartphone market doubled from a year earlier to 44.9 percent, while Android's share fell from 50 percent to 44.8 percent in the same period, according to market research firm Kantar Worldpanel.

Apple posted better-than-expected quarterly results Tuesday, saying it sold a record-breaking 37.04 million units of iPhone in total in the fourth quarter last year, an increase of 128 percent over the year-ago period.